Attention General Dentists:
Discover How You Can Quickly Learn Orthodontics... And Grow Your Practice





Frankly, orthodontics is easier than you've probably been led to believe. I'll teach you EXACTLY how to do it — from the ground up. Absolutely NO previous training is required.
Furthermore, OrthoExpress™ is REAL orthodontics. So it can be used to treat patients that retainer-based systems such as Invisalign cannot. You'll learn to start your first patient quickly... and deliver SUPERIOR RESULTS.
Dear Fellow Dental Professional:
Hi, I'm Ernest Jan Davidian, DDS, MS. I hold a Master's Degree in orthodontics and have been a practicing orthodontist for over 40 years.
I developed an IMPROVED approach to orthodontics — it's called The OrthoExpress™ Technique. It's the culmination of extensive practice and research.
OrthoExpress™ changed my professional practice. Because of its advanced methods, I've had years where I worked just 32 hours per week, yet earned as much as $1,000,000 — and that's net, not gross. And I'm going to show you EXACTLY how I did it.
Orthodontic patients want a beautiful smile in the least amount of time possible — nobody likes wearing braces! The OrthoExpress™ Technique gives them exactly what they want.
Can you REALLY learn orthodontics ONLINE?
Orthodontics is usually taught in a clinic. So the question is: Can it be effectively taught ONLINE?

The answer is YES!

Why is this true?

Because we approach your training from multiple angles...

1) Video Training: Video is a great way to learn. You can watch the videos multiple times... or just review specific segments for clarity. Our videos provide detailed coverage of all procedures.

2) The "BeaCAN" Case Study Sets: The best way to learn is through detailed examples — in other words, with CASE STUDIES. The BeaCAN software provides 80 detailed examples that cover virtually every possible scenario.

3) The Members' Forum: Inside the forum, you'll have personal access to me. I'll answer all your orthodonic questions. You can even post pictures with your questions. (Let me ask you: Where else can you have PERSONAL ACCESS to an orthodontist with over 40 years of experience?!)

4) Monthly Webinars: Each month, we'll get together LIVE online. I'll provide timely advice and guide you in your training. You won't want to miss these! (But, if you do, you'll find the recordings in the members' library.)

In a nutshell, you'll receive revolutionary training and PERSONAL SUPPORT. OrthoExpress™ is a PROVEN, state-of-the-art technique that was developed and refined over DECADES of real-world orthodontic practice.

To sum up...

We don't just think OrthoExpress™ training is "as good as" other programs... we think it's BETTER! Let us PROVE it to you with a completely FREE, 14-day trial.
OrthoExpress™ Is Better Than "Conventional" Orthodontics...
The OrthoExpress™ Technique is based on my thesis research. It, ultimately, won me the Milo Hellman Award — the most coveted award in all of orthodontics.
My breakthrough research, combined with another innovation of mine — the Force Distribution Model — revealed the INEFFICIENCY of conventional orthodontic methods.
The Force Distribution Model is a computer software program I designed which revealed critical information about using "companion forces."

This is the key to The OrthoExpress™ Technique.
Using the FDM software, I was able to determine:
1) The location of the center of rotation of a tooth under any force/torque combination applied at the bracket.
2) The resisting force at the apex of the root resulting from combination forces applied at the bracket.
These two critical pieces of information helped me develop techniques for controlling the force at the apex of the root to minimize root loss (also known as root resorption).
In a nutshell, this means you can treat patients up to 40% FASTER with LESS root loss.
However...
You won't learn these advanced, PROVEN methods in any other orthodontic training course — not even in university orthodontic programs.
That's because The OrthoExpress Technique™ is my own, proprietary innovation... which has been TESTED and refined over decades of real-world use.
As I mentioned, OrthoExpress™ is also different than retainer-based orthodontics such as Invisalign. That's because OrthoExpress™ is REAL orthodontics. You'll use brackets, archwires, and eleastic modules to treat patients — even the most difficult ones.
The bottom line is, I get DRAMATICALLY better results than the profession as a whole. You'll learn techniques that even trained orthodontists DO NOT know!
The OrthoExpress™ Technique is a BETTER way to treat orthodontic patients. When you enroll in my training course, I'll teach you EXACTLY how to replicate my success... starting with the basics.
Okay... at this point, I'd like to give you a very quick look at two of the tools we'll use in the training program — The Force Distribution Model software and the BeaCAN Case Study Set...
An Overview of the Force Distribution Model...
Tipping A Tooth:

The picture below shows the Force Distribution Model with a linear force at the level of the bracket which results in tipping around a center of rotation in the middle of the root.

This demonstrates how the apex moves in the opposite direction around a center of rotation near the center of the root. This linear force results in a high resisting force at the apex of the root which can result in root resorption.
Translating A Tooth:

Below, the Force Distribution Model shows how translation divides the resisting forces along the side of the whole root.

In other words, we can use translation to reduce the resisting force at the apex by 80% — thus protecting the apex from root resorption.

This is the SECRET to how OrthoExpress™ treats its patients in half the time... and with less root loss. OrthoExpress™ training will teach you how to do this with your own orthodontic patients.
We'll be using the Force Distribution Model software during your training to help make "companion forces" (as applied to a patient's teeth) easy to understand.
An Overview Of The BeaCAN Case Study Set...
When it comes to learning, nothing is more powerful than seeing a well-documented process performed.
That's why I developed the "BeaCAN" Case Studies Set.
BeaCAN stands for "Beacon Cases And Narrations." We call it that because it's a training program that will guide you in much the same way that a lighthouse beacon guides ships.
The BeaCAN Case Studies Set is a unique and powerful TEACHING TOOL that forms the foundation of The OrthoExpress™ Technique training.
BeaCAN is an unprecedented documentation of 80 patients who were treated in my office. These case studies cover virtually ANY scenario you're likely to come across in orthodontic treatment.
I documented their complete treatment — start to finish. To do this, I took photographs of their braces during EACH VISIT. So you'll get to see EXACTLY how I treated them over time.
This was a HUGE undertaking. No one in the orthodontic profession has ever done anything like it.
You'll get to "look over my shoulder" and see exactly what I would do in any given situation. OrthoExpress™ training provides a wealth of knowledge. More to the point, you'll learn to solve a wide variety of ORTHODONTIC PROBLEMS.
This is an extremely powerful teaching tool.
My goal was to document EVERYTHING so learning The OrthoExpress™ Technique would be EASIER and FASTER for everyone who takes my training.
In a nutshell, you'll get to see exactly how EVERY patient was treated. You will see both EASY and HARD patients just as they were treated in my office. You don't get this opportunity even in a post-graduate, three-year training program.
Simply stated, there is no other method that matches The OrthoExpress™ Technique. Its effectiveness has been PROVEN.
Here's How The BeaCAN Case Study Software Works...
In total, there are 80 case studies...
| | |
| --- | --- |
| | This is the first level of a Patient Gallery. Click on any patient and you'll see their Treatment Gallery. |
| | |
| --- | --- |
| | This is the second level. By clicking a picture, you'll be taken to the third level where you'll see an explaination of what happened during the patient's visit. |
| | |
| --- | --- |
| | This is an example of the third level. Level 3 provides specific details about each of the patient's visits throughout the process. |
| | |
| --- | --- |
| | For example, this third level example shows the braces off (along with the usual narration of the visit). |
We'll be using BeaCAN during our training webinars to help make difficult problems easy to understand and resolve.
This short, 9-minute OrthoExpress™ overview video will give you a quick peek at the process...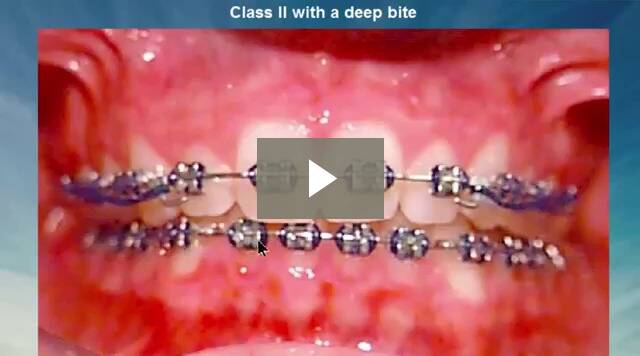 Here's A Brief Sample Of What You'll Learn...
The OrthoExpress™ Technique will show you exactly how to:
Add the lucrative practice of orthodontics to your schedule of services... from the ground up, with no previous training required.
Use companion forces to REDUCE root loss and SPEED UP up the orthodontic treatment of your patients.
Assess orthodontic cases quickly and move teeth efficiently.
Selectively use the extraction of permanent teeth to solve especially difficult treatment problems.
Reduce the treatment time of orthodontic patients by as much as 40%.
Handle MORE PATIENTS to increase your net profit. When fully implemented, The OrthoExpress™ Technique can help you significantly boost your income.
REDUCE "doctor time" at the consultation, during treatment, and during retention of the patient's teeth.
Get your patients to be enthusiastic about their treatment... and cooperate with you.
Reduce overhead costs, revitalize your practice, and successfully compete for patients.
Plus, much more...
About Dr. Davidian...
The award-winning E. Jan Davidian, DDS, MS is the founder and CEO of OrthoExpress™. He's been developing and refining his exclusive orthodontic methods for over 40 years.
The seeds of OrthoExpress™ were planted in 1967 when he graduated from Loma Linda University with a Master's Degree in Orthodontics. Dr. Davidian's thesis research won the Milo Hellman First Research Award and was published in the American Journal of Orthodontics.
To win the Milo Hellman Award, he competed against graduates from every orthodontic training program in the United States and Canada. It's the most prestigious award given in orthodontics.
Frequently Asked Questions:
Question: Why is the OrthoExpress™ training program a good VALUE?
OrthoExpress™ is a 12-month orthodontic training course for general dentists.

You'll be able to complete the entire course in your spare time and start your first OrthoExpress™ patient quickly. (In as little as 3 months for some students; up to 12 months for others. You'll learn at your own pace.)
My training has MANY advantages. Here are just a few of them...
Because the training is 100% online, there's no airfare or hotel expenses... and you never have to schedule time off from your practice to attend (or wait in airports).
The fact is, you can't get key elements of this training anywhere else. I pioneered the proprietary methods you'll learn.
You'll be able to take advantage of my 40+ years of orthodontic experience. I'll help you dramatically reduce your learning curve... and be there to answer all your questions.
My training is actually LESS EXPENSIVE than most of the other online orthodontic training programs available... and NONE OF THEM teach my proprietary methods.
Plus... once you master The OrthoExpress™ Technique, you will become the PREFERRED orthodontic solution for patients in your area. (Word of mouth from your own patients, alone, is likely to increase your business and profits significantly.)
Question: How can The OrthoExpress™ Technique help me increase my profits?
If you're like other dental professionals, you'd like to EARN MORE MONEY.
In a nutshell, you can work harder, longer... or smarter. By learning The OrthoExpress™ Technique, you can add premium orthodontic services and easily INCREASE YOUR INCOME.
Question: What are your own results using The OrthoExpress™ Technique?
Over the last three years, my average treatment time was 17 months — that's 40% less than the reported average for the orthodontic profession.
Furthermore, I have an average root resorption of less than one millimeter on the upper incisors. That's about HALF the average root loss in the profession.
If you've had some previous orthodontic training, what I teach may seem counter to some of the information you've been taught. But my data demonstrates that The OrthoExpress™ Technique produces amazing, real-world results.
As I mentioned previously, by following The OrthoExpress™ Technique, I've been able to earn as much as $1,000,000 (net!) in my best years as an orthodontist.
At the peak of my career, I started 400 full-treatment patients per year... while working only 32 hours per week. This would have been impossible without The OrthoExpress™ Technique. My course will teach you my EXACT methods.
Here's What You'll Get When You Enroll...
Your training is COMPREHENSIVE. You'll receive everything you need to master my methods. I'll train you to add orthodontic services to your practice... from the ground up.
Inside the OrthoExpress™ Library, there will be webinars, mini-lectures, and videos for solving specific problems... along with the BeaCAN Case Studies Set.
Here's a complete description of what you'll get...
Orthodontic "Quick Start" Fundamentals Module
This detailed module will explain the fundamentals of orthodontics. It will get you up to speed quickly and prepare you for the CORE OrthoExpress™ training.
(Note: For general dentists, this module provides very important training — so you'll want to begin here.)
The BeaCAN Case Studies Set
The BeaCAN Case Study Set is used as our primary TEACHING TOOL to effectively train you in BOTH theory and application.
As I've explained previously, the BeaCAN Case Studies Set is unique in orthodontic training. These 80 studies show patients in the order they came through the door... along with the problems that came with them.
Furthermore, my exclusive BeaCAN Case Studies will let you see the entire process... with photographic documentation and detailed notes all along the course of treatment. You'll get to see EXACTLY how I treated them over time.
I'll use BeaCAN to show you BOTH the good... and the bad. This way, you'll learn to solve the kinds of problems that orthodontists face in their practice.
The OrthoExpress™ User's Forum
The forum is a VERY important part of your OrthoExpress™ membership. You'll find it to be extremely helpful.

I (Dr. Davidian) will be there to answer all your orthodontic questions.

[Note: If you feel that you need private, one-on-one advice, I'm available for consultations for an additional fee.]
Forum questions will be answered using all the available tools. These include...
1) Direct discussion in the forum.
2) LIVE webinars.
3) Mini-lessons (via text or video) to cover specific problems that you may encounter.
The user's forum also lets you keep on top of the latest information and network with other members.
"Core" Video Training
These professionally produced videos cover the CORE methods of The OrthoExpress™ Technique.
These lessons provide a solid foundation for understanding why The OrthoExpress™ Technique is superior to other orthodontic techniques.
We'll also use the Force Distribution Model software to learn the principles of "Companion Forces" to SPEED UP treatment and REDUCE root resorption.
LIVE Monthly Webinars
Our monthly webinars are designed to teach important skills and techniques. They run approximately one hour and allow you to ask questions and get immediate answers. (Recordings are available in our online library.)
During the webinars, the Socratic teaching method is used. It's dynamic and extremely effective. (It's most commonly used in law schools, but is also very effective in teaching The OrthoExpress™ Technique.)
Once again, in these webinars, the BeaCAN Case Studies Set will typically be used as a teaching tool.
"Case Study" Video Training
To prove that The OrthoExpress™ Technique treats patients significantly faster than other techniques, in this module I took three patients — with difficult orthodontic problems — and videotaped their treatment sessions from beginning to end.
Two of these patients finished their treatment in only 17 months. The third patient took a total of just 21 months to treat.
These video "demonstrations" of the complete treatment of three young patients PROVE just how well the technique works. You'll find these videos to be invaluable learning tools.
"Mini-Lessons" Covering Specific Techniques
These focused "mini-lessons" are designed to teach specific techniques (such as wire bending) and to treat specific orthodontic problems. We'll use BeaCAN to illustrate many of the techniques you'll learn.
Some of the videos are intended to answer questions (from forum posts or webinar questions). Others provide tips about important OrthoExpress™ skills.
Orthodontic Force Distribution Model
The orthodontic Force Distribution Model is a computer model of an upper central incisor. With computer modeling, various forces and torque can be applied to the crown of a tooth. The model calculates the resisting forces that are transferred to the root.
The Orthodontic Force Distribution Model is a powerful tool. It's a key element of my OrthoExpress™ training and was developed based on the thesis I did for graduation with a Masters Degree in orthodontics.
We'll use this "modeling program" to teach you the difference between good and bad combinations of forces. The good combinations of forces we call "companion forces" because they work together to move the teeth in translation, which reduces root loss. It is companion forces that make The OrthoExpress™ Technique work.
You'll Also Receive This Exclusive BONUS...
When you become an OrthoExpress™ member, I'll share the highly-effective Business Practices I've used and developed over decades of running a very profitable and successful practice.
The thing is...
To maximize your profits, you need to treat patients faster AND run an efficient office.
My training will teach you BOTH.
In the "Business Practices" module, you'll learn:
How to "stack" treatments to save time and money. (Tip: By performing more than one procedure at a time, you can become much more effective.)
How to save time and money on "retention visits." (You'll discover how I reduce my total patient visits by up to 20%.)
How to MAXIMIZE patient cooperation (and MINIMIZE complaints) through education and simple "logistics." (Hint: The key is to FIRST get the cooperation of their PARENTS!)
Why The OrthoExpress™ Technique is not only FASTER... it's also EASIER. (As you'll learn, it allows you to both charge the patient LESS [in total] while you actually EARN MORE. It's WIN-WIN.)
The "secret" to maximizing the number of new patients you can see each day. (Tip: I'll show you how to use "mini-consultations" and "the bonding effect" to save time.)
How to maximize your office's efficiency. (Hint: Delegating tasks and using what I call "AB Visits" can save you an enormous amount of chair time.)
You'll find this module to be INVALUABLE.
Plus... You'll Earn 20 Continuing Education Credits
When you complete your training and meet the continuing education requirements, you'll receive a Certificate of Completion and 20 hours of California continuing education credit. [Note: Check to see if California Credits are accepted by your Dental Board.]
Most states REQUIRE general dentists to earn CE credits. When you join OrthoExpress™, you'll receive state-of-the-art orthodontic training... and CE credits for your effort.
But OrthoExpress™ won't just "continue" your education — it will help take your dental practice to the next level!
Iron-Clad 30-Day Money-Back Guarantee
I'm so certain you'll love The OrthoExpress™ Technique that I offer a money-back guarantee.
Even AFTER your free trial is over, within 30 days of becoming a paid member, if you are not completely satisfied I'll give you a full refund... with NO hassle and NO fine print.
Either you're happy or you'll get your money back. Period. You simply cannot lose — I won't let you!
The OrthoExpress™ Technique can enhance your dental practice AND profits. Let me prove it to you. Try it today... RISK-FREE.
14-Day FREE TRIAL Offer!
The OrthoExpress™ Technique is a state-of-the-art, 100% ONLINE orthodontic training program for general dentists.
If you act now, you can get a FREE 14-day trial. NO CREDIT CARD IS REQUIRED for this free trial. (It really is completely FREE!)

As your free trial period nears its end, you'll be reminded to join so you can receive CONTINUED ACCESS & PERSONAL SUPPORT.

When you join — during this special introductory offer — you'll pay just $1,295 for 12 months of FULL ACCESS to the course.
[Note: Some students will be able to start their first patient in as little as 3 months; others may take as long as the full 12 months. It mostly depends on the amount of time and effort you put into completing the program. But, in either case, OrthoExpress™ lets you LEARN AT YOUR OWN PACE.]
If you want to learn a lucrative new skill — this is the exact training you need. Let me prove it to you... start your FREE TRIAL today.
Once you experience the The OrthoExpress™ Technique, you'll understand why other orthodontic methods are now virtually OBSOLETE.
To begin your 14-day FREE TRIAL, simply click the button below and fill in the form. You'll then receive a "welcome email" granting you FULL ACCESS to everything...
HAVE QUESTIONS ABOUT OUR TRAINING?
CLICK HERE to go to our Contact Page and ask questions about the OrthoExpress™ training program.
Yours For Great Orthodontic Results & Increased Profits,
Ernest Jan Davidian, DDS, MS
Founder & CEO
OrthoExpress.com
P.S. OrthoExpress™ training can change your dental practice for the better. It's an advanced, PROVEN system that lets you add orthodontics to your schedule of services... so you can earn bigger profits. Enroll now...
P.P.S. The OrthoExpress™ Technique is a COMPREHENSIVE, 100% ONLINE training program that helps you increase your profits and produce outstanding orthodontic results. Don't miss out. Take advantage of our FREE 14-day trial offer.